Free Booking Links on Google
Google is making it free to appear in Hotel booking links and every hotel should take this fantastic opportunity for the direct bookings.
You may already be listing your hotel on OTA's and they will have their free link for your hotel for which they will charge you a commission. You can disable Google hotel booking links in the OTA's and use the option in RezEasy instead - free of charge.
How Does it Work?
Google has partnered with Hallisoft to make it easy to get started.
Make sure your Google My Business profile is verified and up to date with your hotel information. Here is a guidebook to help you get started.
Enable and configure Google Booking Links in RezEasy.
Start getting direct clicks on your website, so travelers can book directly with your hotel.
The organic hotel listings in Google are ordered based on a number of factors. The main factors are:
Price Accuracy: You decide the room rates and RezEasy automatically uploads them to Google ensuring excellent prices accuracy.
Price Parity: Having the best price matters and you can ensure that your direct rate entered into RezEasy undercuts OTA's.
Landing Page Experience: When a potential guest lands on your page they see the price, facilities and picture of the selected room. A single button click takes them directly to the booking confirmation page. Nothing could be simpler.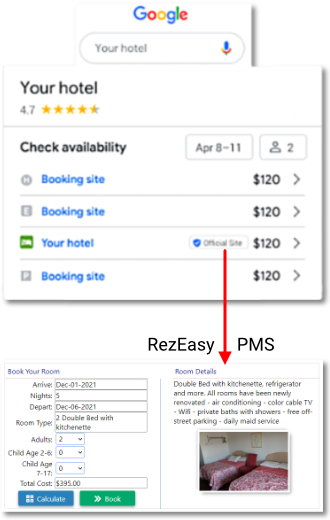 Buy Now Features PMS (Property Management System) Online Reservations Guest Portal
Channel Manager Reports Demo Pricing Brochure