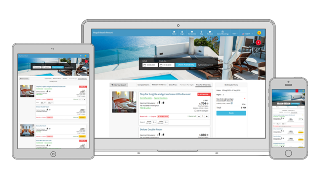 RezEasy Single - Hotel Booking Engine
RezEasy Single Booking Engine provides hotels, motels, B&B's and guesthouses with a powerful way to sell their rooms online. Each booking from your website instantly adds to the Back Office database, and room inventory updates in real-time. The mobile-friendly system auto-detects the visitor's device before selecting the appropriate interface for a computer, tablet or smartphone.
Affordable (No Commission, No Monthly Fee!)
You can quickly recoup the cost of RezEasy within the first few weeks of operation. Selling just a few room nights is enough to recover your investment. Purchase RezEasy today and take control of your business. For just the cost of a few room nights, you can have your online reservation system working for you 24hrs a day, seven days a week, 365 days a year!
Buy Now Features Back Office Channel Manager Reports Demo Brochure Pricing
Anywhere Access
All you need to access RezEasy is a device with an Internet connection. The Back Office is accessible to satellite offices and remotely located personnel. Using system profiles, you determine who has access to RezEasy.
Powerful & Feature Packed
RezEasy is probably the most powerful online booking system available and will transform your website into a fully functional and secure Online Booking Engine with reporting and sales analysis functions. We install the software for you, so there is no complicated setup process. You receive a fully functioning system ready to accept rooms, rates, users, and other data input.
A Few of the Features

Integrated Channel Management:

Our optional two-way Channel Manager interface to Global Distribution Systems automates the export of rates and import of reservations made via Expedia, Booking.com and many others.

Packages & Discounts:

Package your rooms with other products to create unique offerings. Select the room types and number of persons per package when these offers are available.

Flexible Room Pricing:

Unlimited number of rate codes & rate changes during the year. Several rate types to choose from, charged per room or person.

Multi-Language, Multi-Currency:

Translate the text and templates used by RezEasy into different languages yourself, or do it in 3 clicks from within Rezeasy using our partner Nativy. Visitors will be able to view prices and optionally pay in their currency.

Online Payments:

RezEasy is pre-configured for many Payment Systems, and you can allow visitors to choose from different payment methods (bank transfer, credit card and PayPal, for example). RezEasy includes our Transaction Manager module.

Pre-Arrival & Post-Stay Emails:

RezEasy allows you to send automated pre-arrival and post-stay emails to your guests. You can customize the content and format of outgoing emails.
Many More Features: Check out the custom designs and all of the features in RezEasy; you will be pleasantly surprised.