Hotel PMS & Booking Engine
A cloud-based property management system (PMS) like RezEasy simplifies hotel operations, reduces manpower and allows staff more time to concentrate on guests. RezEasy has hundreds of features where you can manage every aspect of your property's daily operations.
Dashboards
Reservations, In-House, Financial & Management dashboards show you what's going on at your property, hour-by-hour, day-by-day.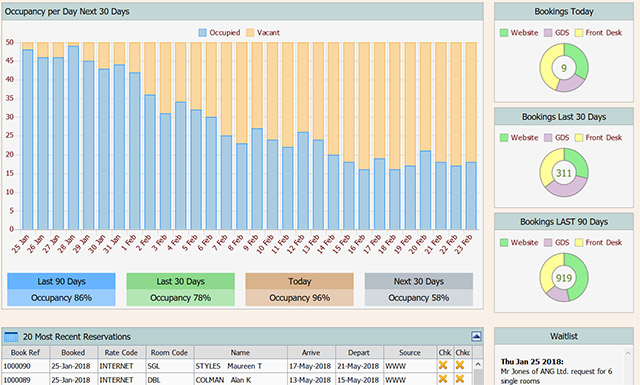 Reservations Dashboard: Occupancy per day for 30 days, occupancy totals for last 90 days to next 30 days, number of bookings, full details last 30 bookings received, wait list.
In-House Dashboard: Occupancy per day for 30 days, totals for arrivals, departures, full details of all in-house reservations.
Financial Dashboard: Revenue per day for 30 days, revenue totals for last 90 days to next 90 days, plus value of room nights booked by source.
Management Dashboard: Revenue per day for 30 days, revenue totals for current date, last 30 and 90 days, occupancy charts, room nights booked, number of bookings.
Calendars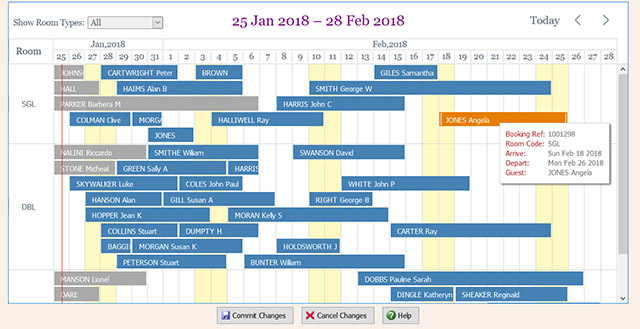 The Reservations, In-House & Management calendars are a visual representation of your property. They shows you real, updated availability with drag and drop room moves and arrival/departure date changes to maximize your property's efficiency.
When you move a guest to a different room type RezEasy automatically checks the maximum and minimum occupancy of the selected room.
When you move a guest to a different room type or change dates RezEasy automatically updates the room rate for remaining days of the guests stay.
Rates & Promotions
Enjoy complete control over your rates. RezEasy supports an unlimited number of pre-defined rates plus custom rates. Rates plans can be seasonal, daily, flexi-rate or day-week-month. You can create unique rate plans, specials, packages and generate public or private promotion codes.
Guest Data
Save your customers in an unlimited customer database which you can filter, download, and manage. Store email addresses and send email newsletters and promotional campaigns to individual guests or the mailing list. Save a passport scan or other document and leave notes on guest profiles to serve them better.
Commission Free Booking Engine
Allow your guests to book their stay directly through your hotel's website and Facebook page using RezEasy PMS system. The responsive design of our multi-device Internet booking engine helps you generate more direct bookings thus earning more revenue per booking.
Booking Channels
Increase your market reach with seamless integration with all avenues of online and offline distribution like OTAs and GDS. RezEasy integrates seemlessly with Siteminder and Octorate for two-way Channel Management. Boking are received into the PMS and inventory is sent to channels in real time.
Buy Now Features Property Management Online Reservations Reports FAQ Demo Brochure Pricing
Types of Rates:
Seasonal: The most popular rate for hotels and guest houses. The year is split into any number of seasons of any length where each season has a different price.
Flexi-Rate: This rate is often used by hotels that cater to business. The year is split into any number of seasons of any length where each season has two prices. The options are Mon-Thu & Fri-Sun, Mon-Fri & Sat-Sun, Sun-Fri & Sat only, or Mon-Sat & Sun only.
Day-Week-Month: This rate is suitable for serviced apartments or properties where the length of stay can run into several weeks. The year is split into one or more seasons where each season has three prices. A daily price for stays of 1 to 6 days, a weekly price for stays of 7 to 29 days, and a monthly price for stays of 30 days or more. If a stay does not occupy an exact number of weeks or months the remaining days are charged on a pro rata basis.
Note: Seasons can be from 1 to 365 days long and you can have many seasons per year (1 for each day if you wish). The season dates and/or price can easily be changed without having to re-enter the entire rate.
Apply Rate:
Per Room: The number of guests in the room does not affect the price per night.
Per Person: The price per night changes according to the number of guests (adults + children) staying in the room.