Hotel PMS & Booking Engine
A cloud-based property management system (PMS) like RezEasy simplifies hotel operations, reduces the workforce and allows staff more time to concentrate on guests. RezEasy PMS has hundreds of features where you can manage every aspect of your property's daily operations.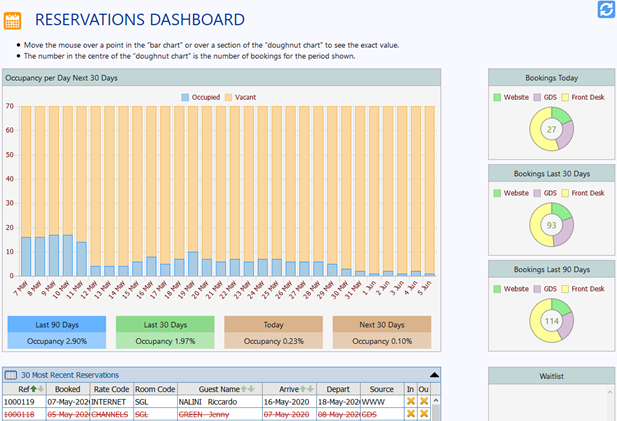 Dashboards
Reservations, In-House, Financial & Management dashboards show you what's going on at your property, hour-by-hour, day-by-day.
Reservations Dashboard: Occupancy per day for 30 days, occupancy totals for the last 90 days to next 30 days, number of bookings, full details of the previous 30 bookings received, wait-list.
In-House Dashboard: Occupancy per day for 30 days, totals for arrivals, departures, full details of all in-house reservations.
Financial Dashboard: Revenue per day for 30 days, revenue totals for last 90 days to next 90 days, plus the value of room nights booked by source.
Management Dashboard: Revenue per day for 30 days, revenue totals for the current date, last 30 and 90 days, occupancy charts, room nights booked, number of bookings.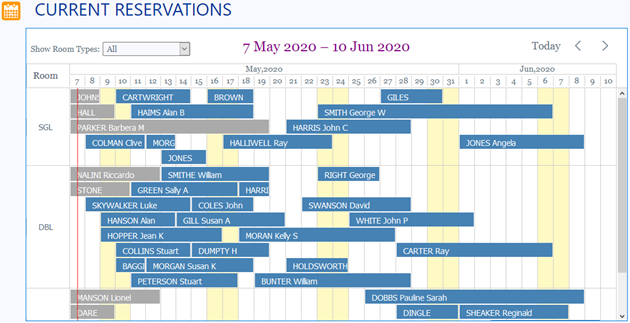 Interactive Calendars
The Reservations, In-House & Management calendars visually represent your property. To maximise your property's efficiency, they show you actual, updated availability with drag and drop room moves and arrival/departure date changes.
Drag and drop a reservation to a different room/room type or dates, shrink or expand a reservation to change its' dates.
When you move a guest to a different room type RezEasy automatically checks the maximum and minimum occupancy of the selected room.
When you move a guest to a different room type or change dates, RezEasy automatically updates the room rate for the remaining days of the guest's stay.
Rates & Promotions
Enjoy complete control over your rates. RezEasy supports an unlimited number of pre-defined rates and a custom rate. seasonal, daily, Flexi-rate or day-week-month. Create unique rate plans, specials, and packages and create public or private promotion codes.
Guest Data
Save your customers in an unlimited customer database which you can filter, download, and manage. Store email addresses and send email newsletters and promotional campaigns to individual guests or the mailing list. Save a passport scan or other document and leave notes on guest profiles to serve them better.
Commission Free Booking Engine
Allow your guests to book their stay directly through your hotel's website and Facebook page using the RezEasy PMS system. The responsive design of our multi-device Internet booking engine helps you generate more direct bookings, thus earning more revenue per booking.
Booking Channels
Increase your market reach with seamless integration with online distribution avenues like OTAs and GDS. RezEasy integrates seamlessly with Siteminder, Octorate, Reseliva, eZee and companies that support the Open Travel Alliance data exchange for two-way Channel Management. As the PMS records bookings, each channel receives inventory and rate updates in real-time, and the PMS pulls bookings from OTA/GDS into its database.
Buy Now Features Online Reservations Guest Portal Channel Manager
Reports Demo Pricing Brochure