Channel Manager Module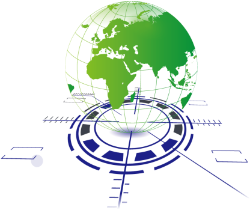 RezEasy's Channel Manager module automatically updates inventory and rates in the Global Distribution Systems (GDS) and Last Minute Booking Sites where hotel owners list their rooms. Reservations taken on these sites are automatically added to RezEasy's database and inventory is reduced in RezEasy and all connected channels thus avoiding double booking. This removes the need to make manual updates. When reservations are made in RezEasy Portal the inventory is automatically pushed to each channel.
Individual hotel owners can manage your inventory and prices in one place. The rate can be configured in RezEasy, the Channel Manager or set at individual GDS systems. Each time that rate or inventory changes all connected GDS systems are updated automatically.
The channel manager module works via Octorate or SiteMinder and should also work with companies, like RateTiger, that support OTA (Open Travel Alliance) data exchange. (You will need an account with one of these channel management companies).
The portal administrator can turn on or off the ability for individual hotels uase the channel manager. Hotels can choose Octorate or SiteMinder.
Channels
RezEasy's Channel Manager offers a two way connection to almost 100 different Octorate channels and 170+ SiteMinder channels.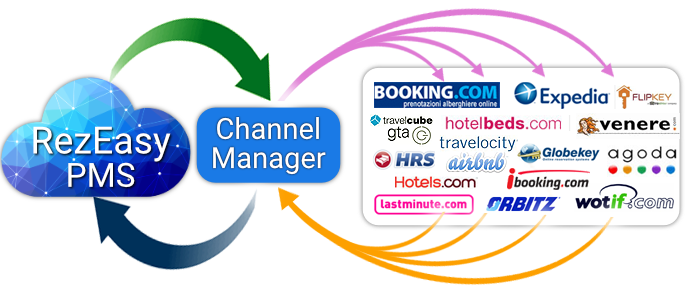 TripAdvisor
We have added integration with TripConnect into RezEasy's Channel Manager module but you will have to wait until TripAdvisor implement direct connections to individual websites before you can take full advantage of TripAdvisor. However, you can also make use of the API built into RezEasy to exchange data with any travel website. RezEasy will send details of your hotel, rooms, prices and availability in response to a search request. Reservation are made directly into RezEasy booking engine.
Buy Now Features Back Office Online Reservations Reports FAQ Demo Brochure Pricing
Channels Supported
Agoda
AirBnB
AlbaTravel
AlphaRooms
AlpiTour
AlwaysOnVacation
Atel
Atrapalo
Atraveo
BBplanet
Bed-And-Breakfast.It
BedandBreakfast
BedandBreakfastRoma
BedyCasa
BookingAy
Booking_XML
BookOn
BookOnlineNow
BudgetPlaces
CampingItalia
CentralReservations
CharmingItaly
CityDay
ClickBeds
CTrip
Despegar
Despegar_XML
DiscoveRoom
Dorms
EasyToBook
Escapio
Expedia
Feratel
Fisheyes
Fisheyes_XML
Flipkey
Gardapass
GitesBeFrance
Globekey
Gomio
GoogleCal
GoogleCalResa
GTO
GulliverLab
HiHostels
HolidayCheck
HolidayLettings
HolidayLettings_XML
HomeAway
HomeAwayConnect
HostelBookers_XML
HostelClub
HostelsChart
Hostels_com
Hostelworld_XML
Hotelbeds
Hotelde
HotelEasyReservations
Hoteliers
Hoteliers_XML
Hotelonline_FR
HotelRez
Hotels
HotelsClick
HotelTravel
Hotel_Combined
Hotel_Inn
Hotel_Nl
Hotusa
Housetrip
Hrs_XML
IBooking
ICastelli
Imperatore
Inhores
Initalia
InstantWorldBooking
ItalCamel
Jetsetter
JumboTours
LastMinute
LateRooms
Leisure
LuxuryTravel
MakemyTrip
MeetingTheFrench
MetGlobal
Mrandmrssmith
NaturalBooking
NineFlats
Niumba
Octorate
Oh-Barcelona
Oktogo
OmegaHotels
OnlyApartments
Orbitz
Ostrovok
ParisSweetHome
PorterFree
Prestigia
Recoline
RentalsUnited
Riad_FR
Roomorama
Sabre
Sejourning
ShareBooking
SimpleBooking
SleepingRome
Splendia
SunHotels
SuperBed
Synxis
TabletHotels
TemptingPlaces
ToBook
Tomas
TouricoHolidays
TransHotel
Travco
TravelEurope
Travelledia
Travelocity
TravelRepublic
TravelSoftware
Treovi
TripAdvisor
Ultranet
UniTravel
Venere
Veneziasi
Viaggiareweb
Vivafirenze_it
Webdesign
Welcomebeds
WHL
Wimdu
Wotif
YourSpainHostel
Zoover
Zuji
Channels Supported
1HotelRez
AA Travel
AAA Tourism
Abreu Online
Accommodation Guru
Agoda
AIC Travel Group
Allin Travel
Allocate
Alpharooms
Amari/Onyx
AOT Sunlover
AroSuite
ATEL HOTELS
Asia Travel
Atrapalo
Aura.Travel
Avvio
Bali Hotel Guide
Barcelo Viajes
Base Backpackers
BedBooker
BestDay Travel
Best Hotel Online
Bicotrip
Book Easy
Book It With
Bookassist
Book Today
Bookerclub
BOOKED
Booking.com
Booking Web Site
BookingButton
BookingButton Cradle
BookingButton MyRez
BookingButton Plus
BookingButton Sapphire
BookingCore
Bookings.lk
BookingWhizz
Bookit.co.nz
Bookit
Bookonlinenow
budgetplaces
buuteeq
Calypso
Cangooroo
Central R
Central Reservations
JETMAX
Cheshire Tourism
Cityzenbooking
Concorde - BookingEngine
Ctrip
Darmawisata Indonesia
Despegar
DOW
Destinia S.L.
DirectWithHotels
Discover Australia
Discover Australia Contract
Discover Australia Package
EasyToBook
ECCO Tours
Egypt Express Travel
eLong
Emviagem
Engrande/BudgetPlaces
Entertainment
Epoque Hotels
eTourism
Europlayas
Europlayas NEW
Evasion Voyage
EvoSuite
Excite Holidays
Exclusively Hotels
Expedia
Explorer Host
Expotel
EziBed/Mitchell
Fastbooking
FastPayHotels
Fiji Travel Online
fincahotels
feratel Deskline
GoldenTour/Koedia
Genares
Getaroom
GIMH S.A
Globekey
Globeres
GNA Hotels
GoIndonesia
Golden Chain Australia
Gomio
GoQuo
Gowaii
Grand National Concierge
GTA-Travel
GuestCentric Systems
GuestCentric Channels
GuestCentric Rewards
Guest Incoming
GuestLeader
Guestlink
HBN Online
Holiday City
Holiday Guide
Hostel World
Hostelbookers
HostelsClub
HostelCulture
Hotel Connexions
Hotel Direct
Hotel.de
Hotelbeds
HotelClub
Hotelerum
Hoteliers
HotelNetSolutions
Realtime Travel
Hotels.nl
Hotels.tv
Hotels2Go
Hotels4U
HotelsClick
HotelsCombined
HotelOnline
HotelShopuk
HotelsInOne
HotelQuickly
HotelSpecials
HotelsToGo
hotelthailland
HotelTools
HotelTravel
Hoterip
HotelTonight
Hotusa
Hotwire
House Of Travel
HRS
IBC Hotels
iCastelli
Idiso
iHotelier
iHotelier PMSConnect
ImpulseFlyer
In1Solutions
i-Escape
Infinite Hotel
Innstant
Innstant (Zenith)
Inntopia
Inovtravel
JacTravel
Jasons
Jetsetter
Jetstar/Hooroo/Qantas
Jovago
JTB Group
JTB Hawaii
Jumbo Tours
Keytel
KiwiRail
KlikHotel
Lancashire Tourism
Lastminute (Travelocity)
LateRooms/AsiaRooms
LateRooms/LRConnect
LateStays/Asia Web
LeisureCom
Leisure Connector
Lido
LivnTravel
Lots Of Hotels
Loving Apartments
LowCostBeds
Lusanova
Luxe Nomad
MyHotelBreak
Mais Reservas
MakeMyTrip
Marsol
MaxEngine
Merseyside Tourism
Midlands Tourism
Migoa
Mirai
misteraladin
Mitchell Corp
MG Holiday
Mr and Mrs Smith
MTC Group SA
Myeres
NeoBookings
NeedItNow
NetAffinity
Netroomz
New Mind
NewMind
Niu Viatge
Nomads
NEast EnglandTourism
Not 1 Night
NT Incoming
Oaks Hotels and Resorts
Olympia Viaggi
Olympia Europe - Voyages
Omega Hotels
On The Beach
Open Travel Service
Orbitz
Ostrovok
OzAccom
Paraty Hotels
Pacific BedBank
Pan Pacific Travel
PegiPegi
Prestigia
Priceline
Priceline Hong Kong
PriceMatch SAS
PYOTravel
Qantas Hotels
Quantum Reservations
Flight Centre
RajaKamar
Rakuten
ResortsandLodges
ResClick
ResLogic
Rates To Go
Reconline
Regal
Regatta Travel
Restel
Rewards Corp
RezViewNG
Roamfree
Roiback
Roomex
Roomlia
RoomsXML
Room-Trade
Openhotelier
Safarinow
Sawadee
Scotland Tourism
Secretplaces
Serhs Tourism
Sidetours
SpeedyBooker
South African Hotels
SEast England Tourism
SWest England Tourism
Southall Travel
Special Tours Whole
Splendia
Standby Rates
Stay Today
Stay247
SunHotels
SuperBreaks
Surfholidays
SynXis Web
SynXis
TabletHotels
TARS
Traveloka
TBOHolidays
TemptingPlaces
The Hotel Network
ThinkHotels
TickTab
Tiket
Tour10
Trepic
Turu
TOMAS Travel - Austria
TOMAS Travel - Berlin
TOMAS Travel - Brandenburg
TOMAS Travel - Bremen
TOMAS Travel - Chiemsee
TOMAS Travel - Cities
TOMAS Travel - Dresden
TOMAS Travel - Freiburg
TOMAS Travel - Germany
TOMAS Travel - Hamburg
TOMAS Travel - Hochschwarzwald
TOMAS Travel - Switzerland
TOMAS Travel - Thuringia
Tourico
Tourism Exchange Australia
TouristOnline.dk
Tourplan
Tradewinds Tours & Travel
TravelBird
Travelbook.ph
Travelin
Travel Republic
Travel Tripper
Travelio
TravelStay
Traveltool
Travelanium
Travelzoo
Tripadvisor Feed Channel
TripConnect Instant Booking
Trisept Solutions
Tumlare
Ubid4Rooms
Unister
Venere
VeryLastRoom
Veturis
Viajes Olympia
Viajes Urbis
VIP Backpackers
Wales Tourism Websites
WebRooms
Website Travel
Weekendesk
Welcome Incoming
Wel-Travel Australia
WHL Alba Travel
Wide Discovery
Witbooking
World View
WorldBlue
WorldTourism
Wotif
south-african-hotels
X-Adapt
Xcaliber
YHA Australia
YukTravel
Zanadu