Google Free Booking Links
Until now, to have a link to your website on Google Search, you had to pay for a Google Adwords campaign. Recently Google announced that they would provide booking links direct to your website free of charge.
With your hotel's free direct booking link displayed to users across hotel searches on Google, travellers will be able to book directly with your property. You control the guest experience on your site and collect the guest data.
Free booking links are a fantastic opportunity to showcase your rates and availability on Google with zero investment and risk. It reduces your dependence on OTA's like Booking dot com and Expedia, and, of course, there is no commission to pay.
Hallisoft has partnered with Google to distribute your hotels' direct pricing and inventory on Google's hotel search. With RezEasy PMS or Portal, you can connect to Google seamlessly and get more natural traffic through free booking links. RezEasy's database updates in real-time to include reservation details and customer data. You can also take full or partial payment via any of the 37 payment systems integrated into RezEasy.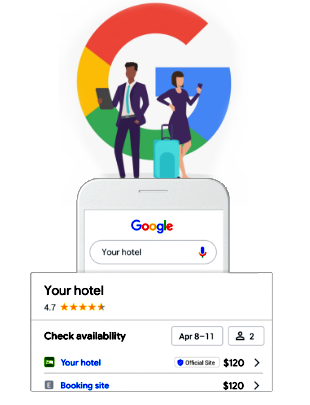 To date, 112 properties have taken advantage of the free booking links feature in RezEasy. During 30 days, these hotels received 125,260 impressions and 4,069 clicks. One hotel, in particular, received appeared 7,180 times and received 228 clicks through to their RezEasy booking system – all for free. Is this an opportunity that you can afford to miss?
Latest New
Google has just announced that Free Booking Links will also appear in organic search and Google maps. Expect more updates shortly.