Channel Manager Module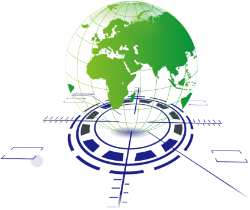 RezEasy's Channel Manager module automatically updates your inventory and rates in the Global Distribution Systems (GDS) and Last Minute Booking Sites where you list your rooms. Reservations taken on these sites are automatically added to RezEasy's database and inventory is reduced in RezEasy and all connected channels thus avoiding double booking. This removes the need to make manual updates. When you make reservations in RezEasy the inventory is automatically pushed to each channel.
You can now manage your inventory and prices in one place. The rate can be configured in RezEasy, the Channel Manager or set at individual GDS systems. Each time that rate or inventory changes all connected GDS systems are updated automatically.
The channel manager module works via Octorate or SiteMinder and should also work with companies, like RateTiger, that support OTA (Open Travel Alliance) data exchange. (You will need an account with one of these channel management companies).
Additional Free Services: Two additional free services are included with the Octorate:
Price Checker: Check the competition's prices! We offer a choice between the properties closest to you; the system will show you a chart with the prices of that facility compared to yours. You can then link your rooms to your competitor's and automatically follow its prices by lowering or matching your prices to match theirs. The system will calculate daily the prices of your competitor, apply the correction and update connected external channels.
Reputation Checker: Use this tool to monitor your reputation on TripAdvisor, Zoover, HolidayCheck and on the booking sites; you can check the satisfaction curve of your clients and see the various reviews in one easy-to-read table.
Channels
RezEasy's Channel Manager offers a two way connection to almost 100 different Octorate channels and 170+ SiteMinder channels.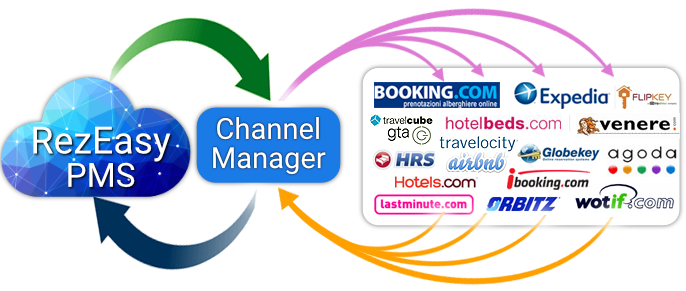 TripAdvisor
We have added integration with TripConnect into RezEasy's Channel Manager module but you will have to wait until TripAdvisor implement direct connections to hotel websites before you can take full advantage of TripAdvisor. However, you can also make use of the API built into RezEasy to exchange data with any travel website. RezEasy will send details of your hotel, rooms, prices and availability in response to a search request. Reservation are made directly into RezEasy booking engine.
Buy Now Features Back Office Online Reservations Reports FAQ Demo Brochure Pricing
Channels Supported
Agoda
AirBnB
AlbaTravel
AlphaRooms
AlpiTour
AlwaysOnVacation
Atel
Atrapalo
Atraveo
BBplanet
Bed-And-Breakfast.It
BedandBreakfast
BedandBreakfastRoma
BedyCasa
BookingAy
Booking_XML
BookOn
BookOnlineNow
BudgetPlaces
CampingItalia
CentralReservations
CharmingItaly
CityDay
ClickBeds
CTrip
Despegar
Despegar_XML
DiscoveRoom
Dorms
EasyToBook
Escapio
Expedia
Feratel
Fisheyes
Fisheyes_XML
Flipkey
Gardapass
GitesBeFrance
Globekey
Gomio
GoogleCal
GoogleCalResa
GTO
GulliverLab
HiHostels
HolidayCheck
HolidayLettings
HolidayLettings_XML
HomeAway
HomeAwayConnect
HostelBookers_XML
HostelClub
HostelsChart
Hostels_com
Hostelworld_XML
Hotelbeds
Hotelde
HotelEasyReservations
Hoteliers
Hoteliers_XML
Hotelonline_FR
HotelRez
Hotels
HotelsClick
HotelTravel
Hotel_Combined
Hotel_Inn
Hotel_Nl
Hotusa
Housetrip
Hrs_XML
IBooking
ICastelli
Imperatore
Inhores
Initalia
InstantWorldBooking
ItalCamel
Jetsetter
JumboTours
LastMinute
LateRooms
Leisure
LuxuryTravel
MakemyTrip
MeetingTheFrench
MetGlobal
Mrandmrssmith
NaturalBooking
NineFlats
Niumba
Octorate
Oh-Barcelona
Oktogo
OmegaHotels
OnlyApartments
Orbitz
Ostrovok
ParisSweetHome
PorterFree
Prestigia
Recoline
RentalsUnited
Riad_FR
Roomorama
Sabre
Sejourning
ShareBooking
SimpleBooking
SleepingRome
Splendia
SunHotels
SuperBed
Synxis
TabletHotels
TemptingPlaces
ToBook
Tomas
TouricoHolidays
TransHotel
Travco
TravelEurope
Travelledia
Travelocity
TravelRepublic
TravelSoftware
Treovi
TripAdvisor
Ultranet
UniTravel
Venere
Veneziasi
Viaggiareweb
Vivafirenze_it
Webdesign
Welcomebeds
WHL
Wimdu
Wotif
YourSpainHostel
Zoover
Zuji
AA Travel
Abreu Online
Acomodeo
Agoda
Accommodation Guru
Argenway
Airbnb
Alturabeds
Allocate
Andalucia Autentica
ANZCRO
Asian Overland Services
AOT Sunlover
Atrapalo
Apartool
HotelCompany/Alpharooms
AroSuite
ATEL HOTELS
AIC Travel Group
Aura.Travel
Avvio
AsiaYo
British Airways Holidays
Barcelo Viajes
BookingButton
BookingButton Plus
BookingButton Sapphire Coast
Bookerclub.com
Booking.com
BestDay Travel
Bonotel
Buffalo Tours
Bali Hotel Guide
Best Hotel Online
Bookit.com
Bidroom
Book It With
BookingCore
Book Easy
Bookassist
Bookit.co.nz
Bookings.lk
BookVisit | Citybreak
Bookonlinenow
BridgeStreet
Book Today
Booking2Hotels
Book That Place
budgetplaces.com
bedswithease
Best Western CRSConnect
BookingWhizz
Caesar Data
CBS Travel Asia
CHECK24
BookingButton Cradle Coast
Connected Destination
Condor Travel
Cangooroo
Chic Retreats
Charming Italy
Choice CRS
Cisalpina Tours
CloudHotelier
CanadaStays
CNTravel
Clearing Station
CNBooking.net
Ctrip
RoomIt by CWT
Calypso
Cityzenbooking
DayBreakHotels
Despegar
Dida Travel Technology
Discover Australia Contract
Discover Australia Package
Discover Australia
Djoca Travel
Destinations World
Darmawisata Indonesia
Dorms.com
Destinia S.L.
DirectWithHotels
DIRS21
EasyBookings
Easybooking Webconn
EC Travel
ECCO Tours
eDream Hotels
ODIGEO Connect
Egypt Express Travel
Engrande/BudgetPlaces
Exclusively Hotels
eLong
BookingEye
My Bookings / Entertainment
Esquiades
EasyToBook
EasyTravel
eTourism
Etstur
Europlayas NEW
Evasion Voyage
EvoSuite
Excite Holidays
Expedia
eztravel
Fastbooking
fincahotels.com
feratel Deskline
Fusion Holidays
Fiji Airways (Trisept)
Fliggy
FastPayHotels
Getaroom.com
Goibibo
grabrooms
Golden Chain Australia
GuestCentric Systems
GuestCentric Rewards
GuestCentric Channels
GoldenTour/Koedia
GDS by SiteMinder
Guest Incoming
GIMH S.A
Guestlink
Gomio
GNA Hotel Solutions
Grand National Concierge
Go2Africa
Grupo Opentours
Gowaii
GoQuo
GTA-Travel
B4ITALY / Giglio Travel
Habicus Group
Hana Tour
Haoqiao
Hotelbeds
HBN Online
Hotel Bonanza
HotelsClick
HotelsCombined
Hotel Direct
HotelExchange
Hutchgo
HiHostels
HotelsInOne
Hoojoozat
Hong Kong Convergent
HalalBooking
HotelsPro
Hoteliers.com
Hotels.nl
HotelNetSolutions
Realtime Travel
HotelOnline
HotelSpecials.nl
HotelPro IBE
HotelQuickly
H-Résa
HReservations
HRS
Hero Travel
HostelsClub
HotelShopuk
HS Travel
HostelCulture
hotelthailland
HTI/eRes
Hotelerum
HotelTonight
Hoterip
HotelTravel
HotelTools
Hotetec
Hotels.tv
Hotusa
Hostel World
Hua Min Tourism
Hutchgo.com
Hotwire
HotelPartner YM
IBC Hotels
GHS iBooking
iCastelli
Idiso
i-Escape
iHotelier
iHotelier PMSConnect
ImperaTours
Infinite Hotel
Instant Bookings
Innstant (Zenith)
In1Solutions
Inovtravel
Inntopia
JacTravel
Jet2holidays
Jetstar/Hooroo/Qantas
Jumbo Tours
Jumia Travel
JTB Hawaii
JTB Group
KiwiRail
Kurzurlaub
Keytel
Lido
Lusanova
Lots Of Hotels
loveholidays
LateRooms/AsiaRooms
LRConnect
LeisureCom
LUXOS Select
LivnTravel
Luxury Escapes
Luxe Nomad
misteraladin.com
MaxEngine
EziBed/Mitchell Corp
Mitchell Corp
Macdonald Resorts
MagicStay
MG Holiday
MG Bedbank
Migoa
MyHotelBreak
Miki Travel
Meituan
Mr and Mrs Smith
Meeting Point
Mirai
Myeres.com
BookingButton MyRez
Marsol
MTC Group SA
Xcaliber
NamuTravel
NetAffinity
NewBook Express
NeoBookings
NeedItNow
Niu Viatge
Nomads and Base
Not 1 Night
World2Meet
Nites Travel
Guestlink
Nexus Tours
Nextel.travel
Rusticae
1HotelRez
Olympia Viaggi
Omega Hotels
OneNight
Off Peak Luxury
On The Beach
Open Travel Service
otelz.com
Ostrovok
OzAccom
Pacific BedBank
Priceline Hong Kong
Priceline.com
PTC Express
PriceTravel
PegiPegi
Portimar
Pan Pacific
Profitroom
Emviagem
Prestigia
Paraty Hotels
PetsPyjamas
Flight Centre
Quantum Reservations
Rakuten
ResortsandLodges.com
Openhotelier
ResClick
Reconline
Roamfree
Regal
RajaKamar
ResLogic
Roomlia
Roiback
Roomex
Rapibo
RootRez
Reserve Direct
Resortime
Rezserve
Room-Trade
Restel
Kognitiv
RezViewNG
GuestLeader
Rewards Corp
roomsXML.com
Ryanair Rooms
RezLive.com
South African Hotels
Safarinow.com
Serviced Aparts Worldwide
ScottDunn
SpeedyBooker.com
Secretplaces
Serhs Tourism
Setours
Surfholidays.com
Stash Hotel Rewards
Sidetours
Sembo
Simple Booking
SilverNeedle Hotels
Solferias
SuperBreak
Splendia
SuperBreak
Sun Series Travel
Stay247
Southall Travel
Staylists
STA Travel
Special Tour
Stay Today
SunHotels
Sawadee
SynXis
Thompsons Africa
TA Network
TOMAS Travel - Austria
TOMAS Travel - Berlin
TravelBullz
TravelBullz
TabletHotels
Travelbook.ph
TBOHolidays
Tourico
Tour10
The Hotel Network
The Hotel Network
TripConnec
Tikitour
ThinkHotels
Tiket.com
Tumlare
Travelio.com
TOMAS Travel
Tuniu
Trend OperaDora
Shanghai Toptown
Trepic
Tourplan
Tripadvisor Feed Channel
TravelBird
Traveliko.com
Lastminute.com
Traveloka
Travelanium
Travelsens
Travel Republic
TARS
TravelStay
TOMAS Travel - Switzerland
TOMAS Travel - Thuringia
Travel Tripper
Tradewinds Tours & Travel
Trav Travel
Travelodge UK
Concorde - BookingEngine
Turu
Travco Corporation
Traveltool
TravelStay Network Services
Trust Voyager
Tourism Exchange Australia
Unister
Vacatia
VacayHome Connect
Veturis Travel
Viajes El Corte Ingles
Viajes Interrias
Viajes Urbis
Viajes Olympia
Voordeeluitjes
VeryChic
Waka
WorldBlue
WebRooms
Wide Discovery
Windsurfer CRS
WHL Alba Travel
Welcome Incoming
Weekendjeweg.nl
Weekendesk
WeKnowLondon
Wanup
Website Travel
Wel-Travel Australia
Witbooking
Leisure Connector
Xenia International
YHA Australia
YHA New Zealand
Zanadu
Travelzoo
Zumata